Every spring, on the eve April 30th, the Czechs celebrate pálení čarodějnic or "the burning of the witches." I celebrated three years ago near the end of my 10-month stint teaching in the country. Having written a 70-page thesis on early modern witch trials (which recently won the Gerhard Weinber Award for best article in European History), seeing this festival was a must. My former boyfriend and I had heard the celebration in Ladronka to be one of the best so we set off to the outskirts of the city.
We arrived a bit late, the bonfire had already been built and the witches already burnt. The "witches" constitute small cloth-made witches which are tied to the pyre.
Other times, one large central witch is placed in the center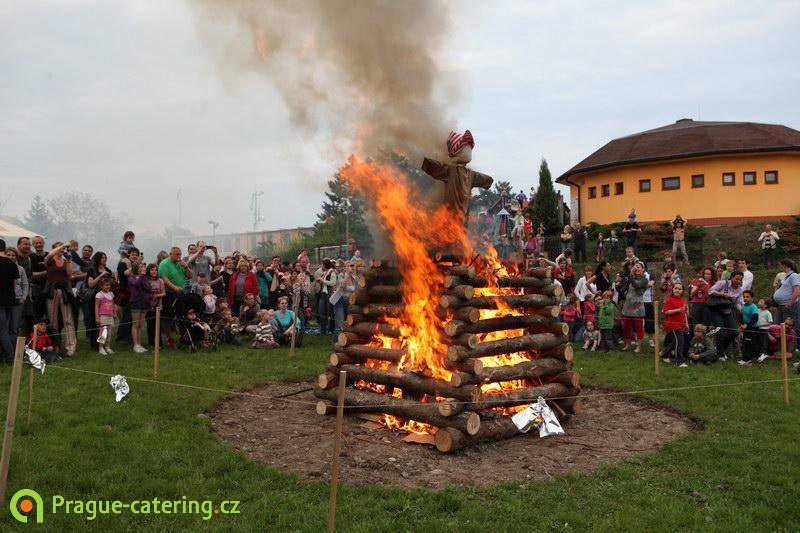 Then the bonfire burns. After that, it seems like a pretty typically "Czech" festival except that all the children were dressed like witches. They even had brooms. There was a stage with some music, lots of beer and food stands, and people building smaller fires to roast sausages which they brought from home. People from all over the country set up little stalls of crafts and jewelry. I bought some clay-fired heart earrings which I still own and wear on a regular basis.
Why Burn Witches?
Traditionally, it is believe the witch burning festival began with pagan rituals celebrating the spring equinox. Later, the date became associated with the date witches are most attracted to attend the Witch's Sabbath (beginning in the 14th century until the late 17th century, witches were believed to fly into the woods at night where they would dine on rotting food, boil babies for their fat, copulate in orgies with the Devil and demons, and pervert anything Christian). It is most likely due to the pagan origins of this celebration that those not following the rules of Christianity in the 14th century would perform rituals in the woods on this date, which later became thought of as "witchcraft." With time, communities began to gather on hills and light large fires to "ward off evil witches."
It is also likely this festival originally celebrated fertility. The next day, May 1st (May Day), Czechs will visit Petřín Park which is covered in blossoming Cherry Trees. It's considered a day of love. Couples kiss under the trees. Legend says any girl not kissed under the trees will "wither and die" within the next 12 months. So obviously I drug my boyfriend there ASAP and let's just say I neither withered nor died…
Featured Image: https://pixabay.com/static/uploads/photo/2014/01/28/08/03/witches-253596_960_720.jpg 
Image 1: www.stratov.cz
Image 2: www.prazskypatriot.cz
Image 3:http://www.prague-catering.cz/rs12/foto/fotogalerie/122/779.jpg